The Guitar That Launched The Beatles
Andrew Vaughan
10.09.2017
"Love Me Do," The Beatles' first-ever single, announced a revolution in rock and roll. The fresh-faced Liverpudlians — Lennon, McCartney, Harrison and Starr — sounded like nothing else on British radio in October 1962. As Harrison remembered in The Beatles Anthology: "First hearing 'Love Me Do' on the radio sent me shivery all over. It was the best buzz of all time. We knew it was going to be on Radio Luxembourg at something like 7:30 on a Thursday night. I was in my house in Speke and we all listened in."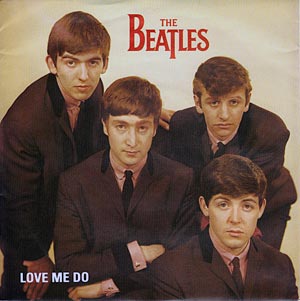 With its Everly-inspired harmonies, strident bass and thumping drums and that distinctive, bluesy harmonica riff, "Love Me Do" stood out amidst a sea of early '60s British pop mediocrity. And high in the mix is Lennon's chiming acoustic guitar, played on his new and highly prized Gibson J-160E.
1962 was a crucial year in Beatles history. Liverpool businessman Brian Epstein signed on as manager in January, Lennon's art-school pal and the band's original bass player, Stu Sutcliffe, died in April and, after being turned down by pretty much every label in town, they finally signed a record deal in June with Parlophone. They made their first test recordings with George Martin in June. In August, Lennon got married and The Beatles finally became The Fab Four when, Ringo Starr joined the holy trinity of John, Paul and George.
With Pete Best still on drums, the group had gone to Abbey Road for some test recordings in June and had been told a few home truths by the studio engineers and Mr. Martin. Engineer Norman Smith told Mark Lewisohn in The Complete Beatles Recording Sessions that the band were given "a long lecture about their equipment and what would have to be done about it if they were to become recording artists."
Taking the recording studio advice to heart, George Harrison and John Lennon, remembering Tony Sheridan's impressive Gibson ES-175, decided they needed some Gibson power and finesse of their own and both fancied a J-160E acoustic. The only problem with that was the price. England, in 1962, was still recovering from two World Wars. The economy was still precarious and the average yearly wage was only £800. The Gibson J-160Es cost a cool £161 apiece, a steep price for even a successful live band of the time. Fortunately, The Beatles had a relatively wealthy manager in Brian Epstein and he co-signed for their payment plan at Rushworh's music store in Liverpool. But even Epstein took a year to pay off the guitars!
The famous old music store was one of a select few Liverpool stores for U.S. guitars, which were still tough to acquire in England in 1962. It was the store where Paul McCartney's father bought the 14-year-old Macca his first guitar. The Beatles purchased a lot of their early band instruments from Hessy's music store in Liverpool, but their tab had passed £200 when Epstein came into the picture and he had to pay off the debt with a personal check.
So Rushworth's it was for the Gibsons. A photo-op ceremony was set up from Bill Harry's Merseybeat paper, and John and George were both presented with their prized sunburst Gibson J-160Es by James Rushworth. Peter Kaye took pictures for Merseybeat and the shot was printed in the paper with the caption, "John Lennon and George Harrison of The Beatles, seen at Rushworth's when they received their Gibson guitars–the only ones of their type in the country–which were specially flown to England by jet from America."
The J-160Es arrived just in time for the historic London recording sessions the next day, September 11, when at EMI Abbey Road Studio Two London, Lennon played his brand spanking new Gibson J-160E on the sessions for The Beatles' first single.
Their record was released just three weeks later, on October 5th, 1962, on the Parlophone label. "Love Me Do" made it to #17 on the U.K singles chart. The Beatles had arrived.
Lennon used his Gibson J-160E extensively over the next year for recordings, radio and TV appearances and live shows. But in December 1963, just after Epstein had made his final payment for the guitar, the 160E was stolen and never found again. It was, in fact, George Harrisons' J-160E that Lennon played in scenes in A Hard Day's Night.
Later in 1964, Lennon picked up a replacement Gibson J-160E, almost the same but with double white rings around the sound hole. This is the guitar he took with him on their historic visit to America in 1964, the beginning of the British Invasion.